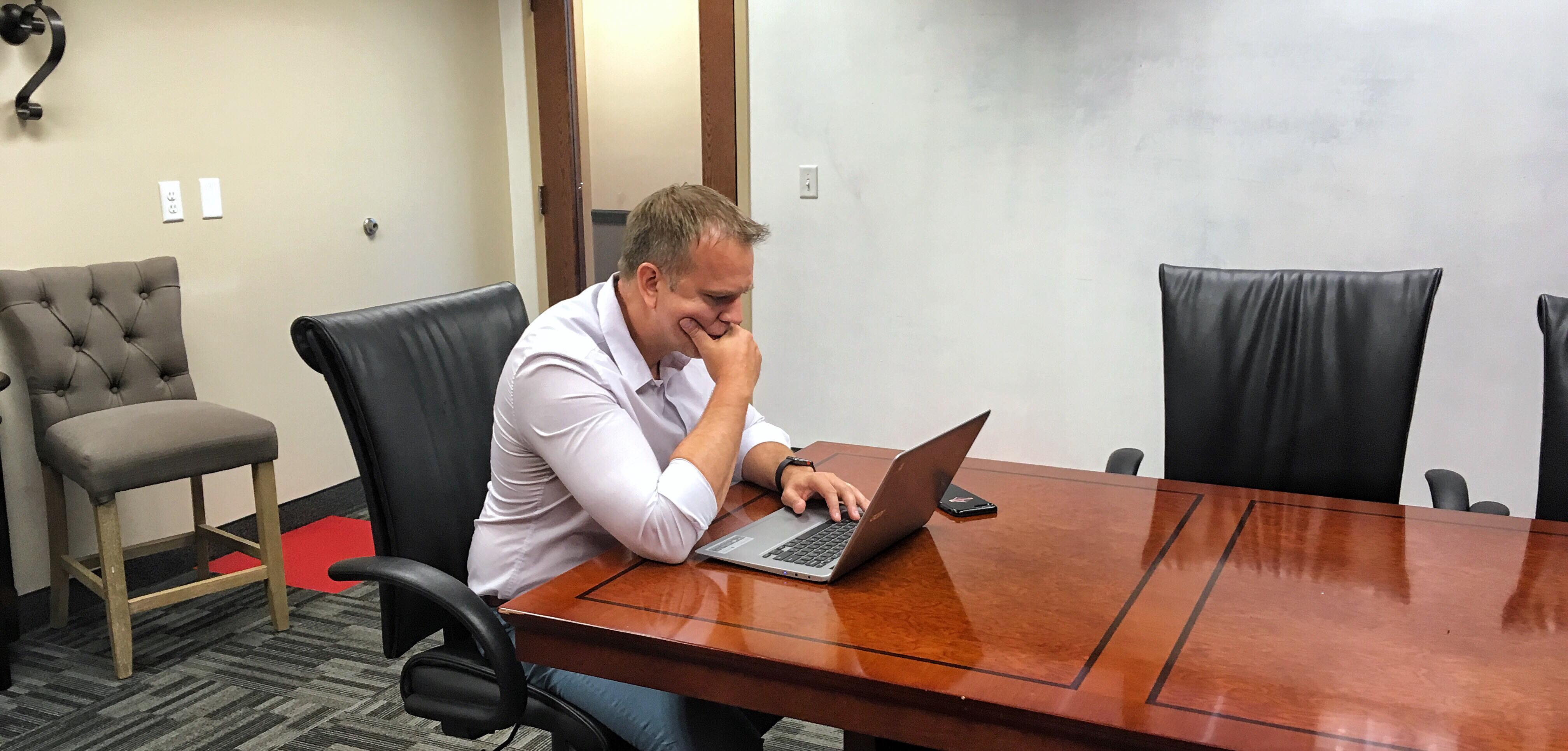 Maybe you've seen the words BrickHouse Properties somewhere, or maybe you've seen our distinctive logo sporting a wolf howling at the moon on a t-shirt or hat. Or better yet, maybe you're a prospective or a satisfied client. So, whether you've never heard of BrickHouse Properties or you've used us to buy or sell your home, here's what we're all about. From beginning to today.
In 2015, Clay Thomas, founder of BrickHouse Properties, found himself at a crossroads. Things were changing in his former company and his position was being phased out. He'd known for a while he would need to make a big change, but the inspiration to choose the next step just wasn't coming.
But inspiration comes in strange ways. One day, while scrolling through Facebook, Clay ran across a video by Steve Harvey called Jump. The gist of it: every successful person, at one point, took a leap of faith. What better time to make that leap into real estate than now?
"I kept turning the idea over in my head, trying to think of a good name for it," Clay said. "Whenever I would come up with a good idea, I'd run and ask my wife what she thought of it, and it was never quite right. Then I was brushing my teeth one day and the name BrickHouse Properties just came to me. So I asked my wife and she said it was actually pretty good. The wolf on the logo was a private joke between former coworkers. I wanted that part of my past career to be incorporated into my new business.
"I chose real estate because it was a great fit for me. One of the most important things is to know your strengths and weaknesses. I knew mine and real estate felt like a perfect match for my personality, drive, and skill set," said Clay.
"BrickHouse is what I would want a real estate group to be in 2018. We're always striving to be better–to use the most up-to-date technology and best skill sets to ensure our clients have a positive experience. We're high energy and humbled to be here, happy to help you buy or sell.
"Our culture is really important. We focus on our clients and their wants and needs, and strive to always have a great relationship with the realtors we're working opposite of. At the end of the day, we're just really committed to being there for our clients and working efficiently to make their buying or selling experience effortless."
Clay Thomas won the Keller Williams Greater Lexington Rookie of the Year and the 2017 Ohio Valley Regional Rookie of the Year Award. He and his growing team of realtors are proud to be one of the top producing real estate groups servicing the Greater Lexington Area.

Clay also hosts the podcast, "BossTalk", motivating and inspiring entrepreneurs and others to do what they love and love what they do.

BrickHouse Properties is a full-time real estate company servicing Central Kentucky and areas in Eastern Kentucky. For all your buying and selling needs, visit us at BrickhousePropertiesKY.com, email brickhousepropertiesky@gmail.com, or call 859-721-2440. Follow us on Facebook and Instagram.